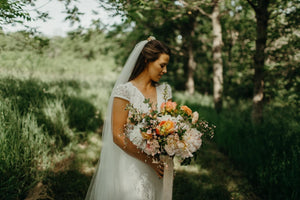 BOUQUETS FOR EVERYONE! 
Bridal Price: $250/bouquet
Bridesmaid Prices: $175/bouquet

Colors: Whites & Creams, All Mixed Colors, All Pastel Colors
Want to have that special something in your hands before and after you say, "I Do!" Let us do the work of creating something truly special that's locally grown and designed right here in Southeast Iowa!
BSF Bridal Bouquets are sustainably created bouquets that are crafted by local artist and designer, Meredith Nunnikhoven. She harvests and uses flowers only grown on the farm in Oskaloosa, Iowa. All Barnswallow flowers are grown in chemical free soil and are not sprayed with pesticides. You can be assured that what you are holding for several hours on your special day is safe for everyone to enjoy.
Bouquets come in 3 color palettes and can be matched to the same color palette of your DIY Bloom Buckets! Each bouquet will be wrapped with twine and packaged in a vase and box with tissue paper for easy transport. Feel free to dress up your bouquets with satin ribbon, rhinestones or a family heirloom pieces.
Bouquets are one size and are constructed based on the types of flowers in bloom. They are medium to large in size. If you want a small bouquet, it's the same amount of work and time to design versus a large bouquet. Please let us know in the comments if you have a specific presence. 
Flower type is limited to ONLY what is best from the farm and is decided by the farmer florists the week of pick up. 

Available between May 12th-->October 7th yearly and limited to what flowers are producing best on the farm the week of your event. Choose the amount and type of bouquets you need along with the color palette from the drop down menu. More floral varieties and diversity come available in July, as we only grow sustainably outside in the fresh air. 
Pick up is on Friday or Saturday AM's in the air-conditioned, Little Blue Barn on the farm. Bridal Bouquets are released on the date of the actual event. Even if it's very early morning, we can accomodate your timing. If your wedding is not on the weekend, we can adjust our schedule. Please send us an email with date inquiries. 
Seasonal Bloom Types
Late May-Early June: Peonies, Accent Flowers, Greenery
July: Lisianthus, Accent Flowers, Greenery
August: Dahlias, Lisianthus, Accent Flowers, Greenery
September & October: Dahlias, Accent Flowers, Greenery
IMPORTANT NOTES!
*We need at least 2 weeks from order time to pick up date.
*Bridal bouquets are non refundable, so please plan accordingly.
*Flower varieties are ONLY chosen by the farmer. 
*Consultation is not provided with this purchase.
*This products is ONLY for local pick up at Barnswallow Flowers. No shipping. 
*Still have questions? Please review our FAQ page.